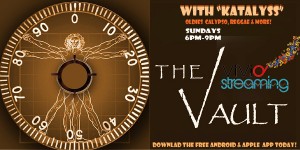 Show Times
Not Currently Scheduled.
About the Show
It's "THE VAULT" keeping you locked in and locked down with "Katalyss"
every Sunday from 6pm-9pm with the best in Oldies, Calypso, Soca, and MORE!!
Listen in as "The Katalyss" unlocks "The Vault" and takes you back where you long to be!!
Enjoy great music and good vibes with a blast from the past!
ONLY here on ViVid Streaming!!
Were you stuck in "The Vault" let Katalyss know here!
Show love and sponsor the "The Vault" & Katalyss by contacting our Sales Team!